Center for Justice Welcomes New Staff Attorney on Board!
Welcome Curtis!
The Center for Justice is proud to welcome Curtis Pouliot-Alvarez to the office as a RWULaw Fellow! As our newest Staff Attorney, Curtis is already rolling up his sleeves, meeting with clients and staffing clinics in the community.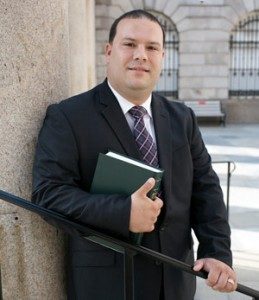 Curtis graduated with his Juris Doctor, cum laude, from Roger Williams University School of Law. He earned Bachelor of Arts degree in English, magna cum laude, from Rhode Island College. He is admitted to practice law in the Commonwealth of Massachusetts as well as the state and federal courts of Rhode Island. Curtis is a U.S. Army veteran, a proud 17th generation Rhode Islander and grandson of our state's founder, Roger Williams. Curtis was born and raised in the Mount Pleasant neighborhood of Providence, attending area public schools, participating in youth sport leagues and volunteering at local community non-profits throughout his childhood.
While a law student, Curtis dedicated himself to public interest work, providing over 1,500 legal service hours to indigent communities. Curtis was President of the Association for Public Interest Law, overseeing the largest and most active student organization and RWU Law. Among his many involvements in law school, Curtis is most proud of his time as a student attorney for both the Federal Public Defender of Rhode Island, and the Committee for Public Counsel Services (CPCS) Public Defender Unit in Fall River, Massachusetts.