Rhode Island Workers Stand Up for Their Rights
The Wage Justice Project
The Wage Justice Project is a collaboration between
 Fuerza Laboral 
and the Rhode Island Center for Justice. Twice a month, Center for Justice staff attorneys operate a workers' rights legal clinic and provide legal assistance to Fuerza's members who face challenges ranging from denial of unemployment benefits, to wage theft, to workplace discrimination. Below are stories from three Fuerza Laboral members who received legal assistance through the Center for Justice.
Jorge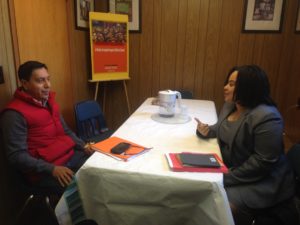 After working for more than a decade at a local auto parts retail store where he received praise and commendations for his diligence and professionalism, Providence resident Jorge was fired because of personal tensions with his new manager.  Devastated by the loss of employment and unable to immediately find new work, Jorge sought unemployment insurance benefits through the Rhode Island Department of Labor and Training (DLT).  His initial application was denied. Determined to access what he knew he had earned after more than 10 years of employment, Jorge appealed this decision but struggled because of his limited English language ability and unfamiliarity with the legal system.  In March, Jorge attended a legal clinic conducted by the Center for Justice at Fuerza Laboral in Central Falls.  He presented paperwork indicating that his appeal had been denied and that his only remaining option was to seek review by the DLT's Board of Review.  Center for Justice staff attorney Misty Delgado represented Jorge at a hearing before the Board of Review's three administrative law judges.  She presented evidence and successfully argued for a reversal of the DLT's previous decisions.  Jorge received over $6,000 in earned unemployment insurance benefits and reports that this has been critical in sustaining himself and his family.
Maria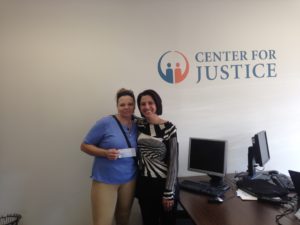 Maria works long, physically demanding hours cleaning rooms in a downtown Providence hotel.  For three years, she dutifully performed her work and followed all company rules.  However, Ms. Marte was unjustly denied paid vacation leave which she had earned pursuant to the employee handbook.  In May, Maria attended a Center for Justice legal clinic at Fuerza Laboral in Central Falls.  Staff attorney Marissa Janton interviewed Maria and subsequently agreed to represent her in an effort to obtain her wrongfully denied benefits.  Marissa successfully advocated for Maria and won the compensation she had worked so hard to earn.  Maria reports that she has benefited not only from the funds received through the Center for Justice's assistance but from the vindication of her rights which had been violated.
Eli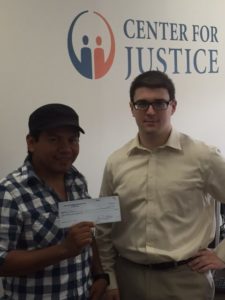 This past winter, Providence resident Eli, was recruited to perform snow and ice removal at a local airport.  For thirty consecutive hours, Eli worked nonstop shoveling snow and ice in freezing temperatures and near constant precipitation.  He had been promised a wage of $16 per hour but when the work was completed he was paid nothing.  For months, he called the contractor who had employed him but his calls were never returned.  In May, Eli attended a Center for Justice legal clinic at Fuerza Laboral in Central Falls where he presented his case.  Subsequently, Center for Justice staff attorney and Columbia Law School post-graduate fellow James Crowley successfully advocated for Eli who received hundreds of dollars in hard earned wages.  Beyond his own individual case, Eli has become active in the organizing and advocacy work of Fuerza Laboral, helping to build the power of low-wage, immigrant workers in Rhode Island.