Student Plaintiffs in "Right to Education" Case Appear on The Daily Show as Providence Public Schools Report is Released
By Zack Mezera, Providence Student Union, and Jennifer Wood, RI Center for Justice
Recent Providence schools graduates Aleita Cook and Ahmed Sesay held back laughs as The Daily Show correspondent Jaboukie Young-White wheeled into a classroom on a hoverboard, doing his worst impression of a modern teenager.
The subject of the interview, however, was extremely serious: the dire need to guarantee a federal 'right to education'. Cook and Sesay are among 11 plaintiffs in an active lawsuit against the State of Rhode Island, Cook v. Raimondo, alleging that their rights under the U.S. Constitution have been violated because they have not received a robust civics education.
Last night's segment from The Daily Show reveals how thousands of Rhode Island students like Cook and Sesay feel their school systems have underprepared them for civic life post-high school. "I think young people should understand the way that systems were built and how the world works," Sesay said.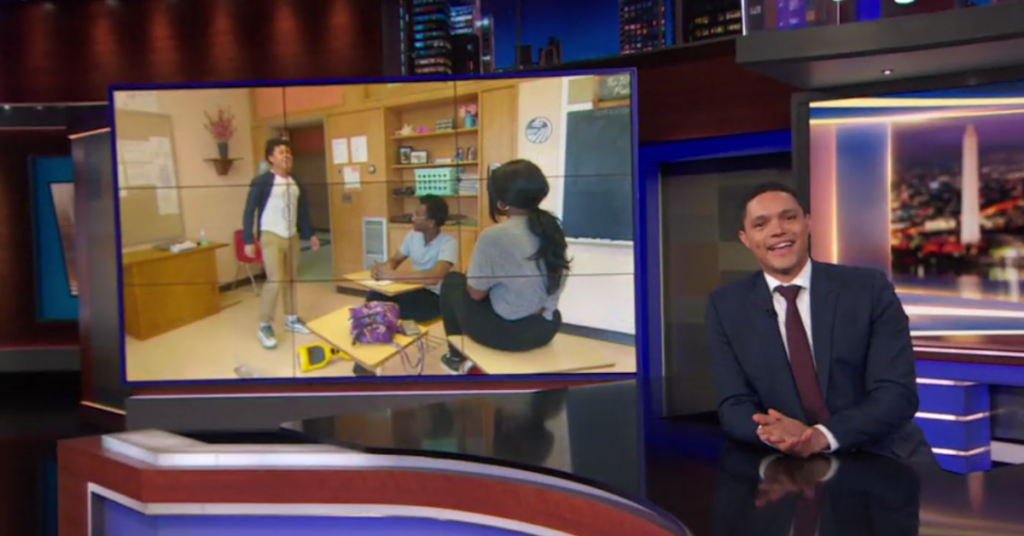 The clip was released in the midst of statewide education turmoil following the recent release of the Johns Hopkins University report on the state of Providence Public Schools. But even as state leaders like Governor Gina Raimondo, Senate President Dominick Ruggerio, Speaker Nicholas Mattiello, the Board of Education, and the Commissioner of Education lament the condition of the capital city's education system, those same leaders are currently fighting in court to establish that students do not have any guaranteed right to education and to get the students' case asking for better education thrown out.
The state leaders express consternation about Providence Public Schools' failure to serve students, but they continue to fight in court for the state's right to do nothing about those failings. They are arguing in court that the students who are fighting for better education "have not come close to alleging the 'radical denial of educational opportunity,'" in spite of the grim assessment released yesterday. The State is asking the federal court to reject those same students' claim that "education is a fundamental right and/or that the federal Constitution guarantees some minimally adequate level of education because it is essential to the exercise of other rights."
The segment from The Daily Show also makes clear the national stakes of the Rhode Island lawsuit. "If we get the Supreme Court to declare that there is a national right to education, state legislatures and school systems will act on it. It'll make a huge difference," said Michael Rebell, executive director of the Campaign for Educational Equity at Teachers College, Columbia University.
Asked why the lawsuit was filed in Rhode Island, Rebell simply replied, "We looked at what states have the worst education system when it comes to civics."
The case continues to move through the federal court, with the State of Rhode Island expected to file another memo calling for the dismissal of the students' claim for education improvements later today.